In this update: an awesome credit card offer, our monthly points activity report, a copycat vacation, one reader's Menards ramp-up, and more!  (You always have to put "and more!" at the end of things like this.)
Let's kick off this update with our household points and miles activity summary for February:
earned 6,408 airline miles
earned 3,945 Chase Ultimate Rewards
earned 2,198 Citi Thank-You points

received

$300

in travel expense reimbursement from Nicoleen's Chase Sapphire Reserve
Credit Card News
American Express has a strict but straight forward policy when it comes to card churning:  One sign-up bonus per card, per person, per lifetime.  This simplifies the decision on whether or not it's a good time to get a particular Amex card.  Unless the bonus is at its highest known level, don't get the card.  (Exception: if a card is being phased out and it's your last chance to get a bonus on that card before it's obsolete.)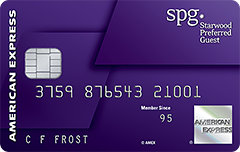 Through April 5th the Amex SPG (Starwood Preferred Guest) personal and business cards have elevated sign-up bonuses of 35,000 SPG points each.  This is an amazing bonus, considering how valuable SPG points are.  Each card has a different spending requirement to get the bonus, with the first 25,000 after an initial 3 months spend and the remaining 10,000 coming after additional spending in the first 6 months.  I am strongly considering applying for the personal card since these cards may not be around forever with the SPG/Marriott merger shaking out.
For more info on this current offer, check out the MillionMileSecrets article here.
Vacation News
ValueTactics readers Derek and Danie are currently enjoying a plagiarized paradise get-away.  They got free airfare and a free 3-night stay at a luxury Westin resort in the Caribbean.  Does this sound familiar to any of you regular readers?  🙂  That's right, it's eerily similar to the long weekend in Costa Rica Nicoleen and I just returned from.  Oh well, if imitation is the sincerest form of flattery then it's mutual, since Derek is the one who got me started in the credit card game to begin with.
Hopefully I can convince Derek to let me write a post on their trip and the value tactics they used to travel for free!
New ValueTactics Blog Posts
– Hotel Review – Andaz Peninsula Papagayo is my complete and lengthy review of the amazing property we stayed at last month.  Check out the review for lots of good pictures!
– A long weekend in paradise . . .why not? is my trip review of our Costa Rica trip.  Read this post to find out how we planned this $3000+ vacation for under $300 in 2 hours . . . on a whim.  This one also has some great pictures from our trip.
Menards Free Stuff Update
As I reported in this post, I have severely tempered my use of the Menards free stuff tactic.  But that doesn't mean my readers have.  ValueTactics reader Alex sent me these pictures:
Looks like Alex is ramping up his program!  It confirms what I suspected after receiving this incriminating photo from him.  I can't judge of course; I've also been guilty of ValueTactics fanaticism from time to time!
Now you're updated. Go employ some Value Tactics!